Fire Sprinklers
In 1985, Robinson Plumbing was looking for ways to expand into new markets and jobs. Our founder, Bill Robinson, talked his daughter, Gina, into going to Dallas, Texas for two weeks of training to become a fire sprinkler designer. Upon her return, she was thrown immediately into the fire (as it were) of designing a sprinkler system for a super market! The rest, as they say, is history.
We have done every kind of job, from industrial manufacturing facilities, to small accessory dwelling units. Our niche, however, has always been residential.
We welcome the opportunity to bid your next project, be it a house or a high rise apartment.
Our highly competent and licensed fitters will give you high quality workmanship that you can depend on for the life of your building.
References:
The Craftsman Group
Meydenbauer Properties
Roberts Wygal LLC

A recent project for Landsverk Quality Homes in Edmonds, Wa.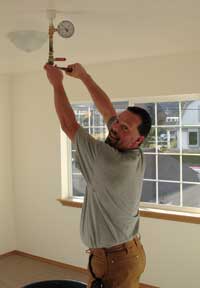 Eddie getting ready for a flow test.




2" riser for a 6 unit apartment.