Backflow Assembly
Mike Lee and Ken Robinson-Elmslie are both Washington State Certified Backflow Assembly Testers (BATs).
Mike holds a journeyman plumber's license, has been a BAT since 2006 and is certified through 2012.
Ken has been testing since 2001 and has also completed the exams to be certified through 2012.
We are able to both test backflow assemblies and to repair or replace defective or damaged units.
We offer discounts for multiple assemblies at a single location.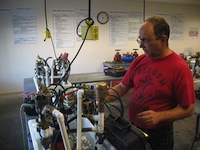 Mike prepares for his backflow tester's refresher exam during a recent class.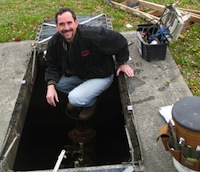 Ken atop a 6" fire service double detector check.